The only manufacturer in Bulgaria and the leader in Southeast Europe
Demax-Holograms PLC has over 20 years of history and extensive expertise in the development and implementation of holographic products and optical systems of the highest class for document protection and trademark authentication.
The company has a staff of over 120 people and is located in its own building in Sofia on an area of over 4,000 square meters, built and equipped to the highest internationally recognized security standards.
The newest equipment in this high-tech production facility is the E-Beam Lithography System, the latest global advancement in creating holographic originals with the highest degree of protection.
Demax-Holograms AD has over 600 clients in Bulgaria and in 60 other countries around the world. We offer an extremely wide variety of products, equipped with different types and complexity of protection elements of the highest class.
Innovation in holographic technology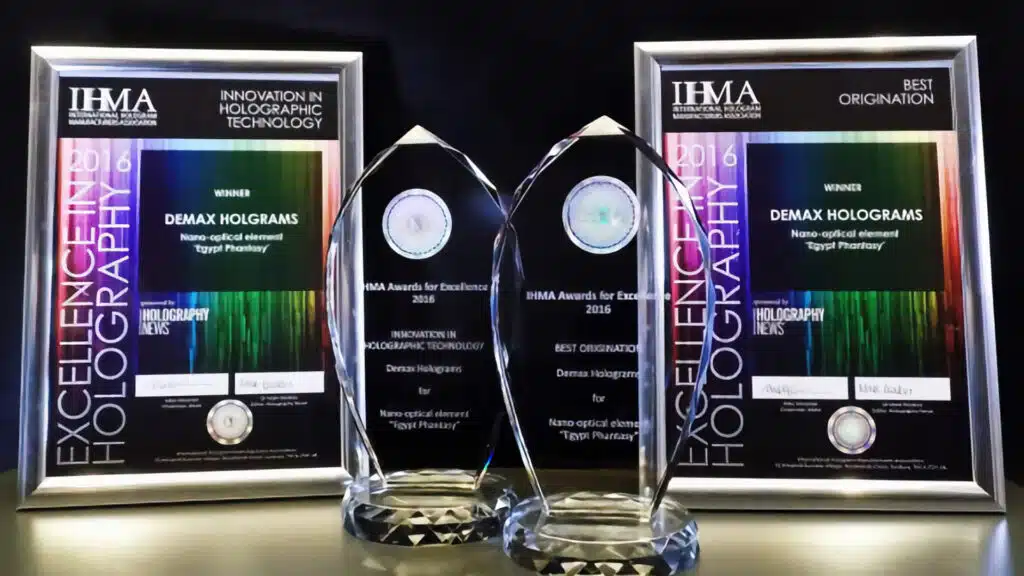 In 2016, we received two prestigious awards from the International Association of Holographic Manufacturers in the category of "Innovation in Holographic Technology" and "Best Holographic Matrix", thanks to the new holographic elements we created that have no analogue on the market.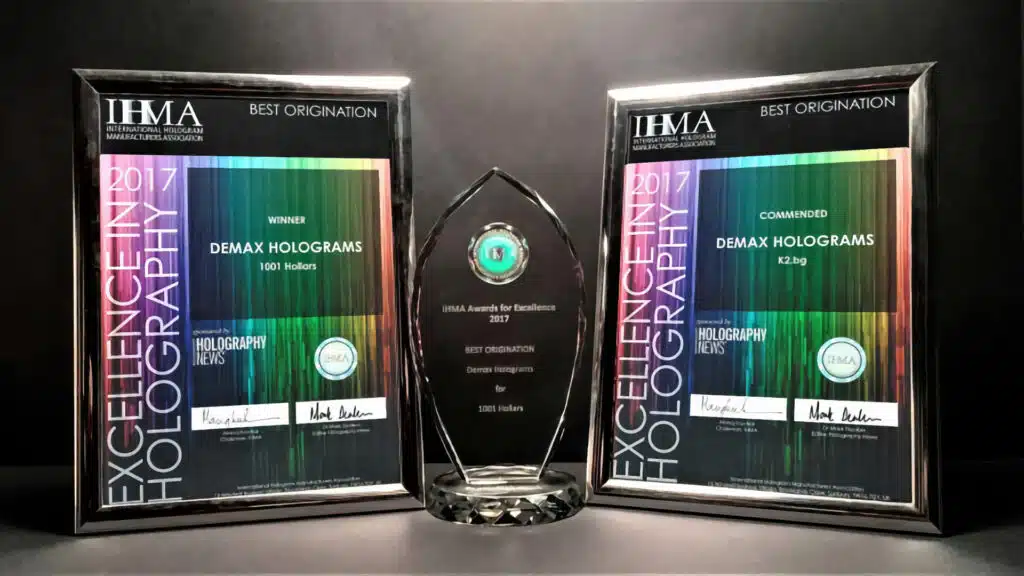 In 2017, we received first and second place awards in the "Best Holographic Die" category from the International Holographic Manufacturers Association, thanks to innovative products developed for application in banknotes and identity documents during the year.
In recent years we have established our own brand "LIDOGRAM" - technology for optical generation and synthesis of diffractive optical elements. We offer a multitude of securitized elements with extremely high resolution:
Black or coloured nanographics
Nanotexts
3D "glass bas-relief" effect
Achromatic halftone image
Various flip effects
Guillotines
Latent or hidden image
We will design security features with a high level of security for your:
Documents, forms, securities books - produced under license and under permanent on-site supervision by the Ministry of Finance
Identity documents
Certificates
Shares
Diplomas
Tickets
2017 - IHMA Best Holographic Matrix Award for our latest development - the nano-optical element "1001 Hollars"
2016 - Two IHMA awards for the nano-optical element "Egyptian Fantasy", awarded in the categories "Most Innovative Holographic Technology" and "Best Holographic Matrix"
2011 - IHMA Award for Best Securitization Product for "Car Document Authentication for Bulgaria"
2011 - Gold medal and diploma from the 67th International Technical Fair, Plovdiv, for the development of "Electronic system for the management of theoretical exams"
2004 - Gold medal and diploma from the 60th International Technical Fair, Plovdiv, for "Holograms and optical elements for protection of trademarks and documents against counterfeiting"